ILCT Faculty Members Win the 2012 ICF International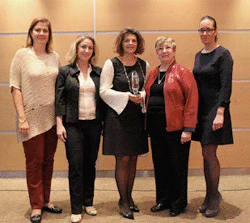 Lynn Meinke, PCC and ILCT senior faculty member, mentor, supervisor and assessor, and Esra Aksuyek, PCC and ILCT graduate and Director of ILCT-Turkey named the winners of the 2012 ICF International Prism Award for the coaching program they developed for Roche-Turkey. As Janet Harvey, ICF President said, "The International Prism Award represents the highest standard of excellence for companies that have implemented coaching programs for culture change, leadership development, organizational productivity and performance improvement."
Working with the HR directors and managers of Roche-Turkey they developed a multiphasic coaching initiative that honored the company's commitment to their employees' personal and professional development. What made this coaching initiative unique was that this process was completely driven by the coachees and their self-defined developmental needs. Roche-Turkey was not focused on traditional measures of ROI as indicators of success. Instead they focused on valuing their employees and were committed to enhancing their "total life."
Lynn and Esra are clear that it was a very fulfilling experience to be involved in this company's coaching initiative from the beginning. "To observe the changes and benefits that developed as this company moved into a coaching culture and supported the growth of their employees was extraordinarily rewarding. We are grateful for the privilege of doing what we love and witnessing the incredible results that coaching can bring to individuals and to the larger organization."